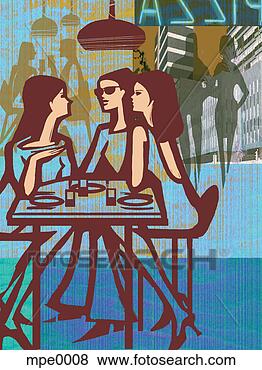 There's nothing like a night out with girls to lift my spirits. I had such a fun evening at my friend's

bachelorette

. We went to a swanky, intimate restaurant called Ten. I was the first to arrive, but it was relaxing to sit and take in my surroundings. It's not

ever day

I dine at such a fancy place. Before going into Ten, I was carrying an unfinished cup of butter pecan

coffee

. I didn't want to bring it into the restaurant, so I found a table outside a

sandwich

store and put my coffee there. Being really windy, I should have known better. My coffee spilled all over my black pants and partly on my top. I was

embarrassed

, but the coffee dried by the time the others girl's arrived. I warned the girl sitting beside me that I was probably wafting odors of butter pecan. The bride-to-be arrived last and got a ride with her

hilarious

Irish mother. I was a bit sad that her Mom wasn't staying as she is so funny, but it was the bride's night. She wore a bride-to-be sash and tiara and had a glowing male body party clipped to her drink. My friend was glowing and that made us all happy.
One of the girls is a bit rude. Her comments are

unnecessary

and off colour. She comes mainly to help another friend of the bride's who needs a fair amount of physical assistance. I think she's there mainly to work - not for company. I feel sorry for the girl she helps. She has no choice but to put up will her. Having met the challenging friend before, I was prepared for her rudeness, but she was surprisingly pleasant. She ordered a yummy bread dipper starter and shared with all of us. Sharing shows class in my books, especially when food is involved.
I ordered a salad with salsa and sunflower seeds. There was an air of elegance to the way it was plated. The salad was good. It's hard to go wrong with a plate of greens. Most of the others ordered pasta. Everything looked gummy. The maid of honour arranged for the restaurant to prepare a chocolate cake shaped like a male organ. The bride was surprised and couldn't stop laughing. When the waitress said, "We're going to take the p***** and cut it up for you guys," it was hard not to laugh.
It poured rain just as I left the restaurant. I

really

respect and enjoy talking to the maid of honour in particular. She's my kind of friend. She waited while me while my bus came. My taxi driver was very sweet. He asked where the Observer was. I smiled and said it was a night "just for girls." The driver understood. My second bus driver was my all-time favourite wheelchair bus driver in the city. I rarely see him, so when I do, I am happy. A lady who I have blogged about before who goes to

karaoke

was on the bus. I was happy to see her too. When she was off the bus, I had a serious heart to heart with my favourite bus driver. Our talk

confused

me, but I still enjoyed it. Tired and full of too much coffee, my bladder exploded as soon as I was in the door. Accidents are frustrating and gross, but I can't do much about them. My night was ninety-nine percent fun and the other one percent was a little wet.
Mom called last night and left this message: We've called you numerous times in the last few days. You're not answering your phone.

Obviously

, you don't want to talk. When you decide you do, please call us.
Mom's message made me angry. She KNOWS I will

always

talk to her if I can. I've just

been

busy. I didn't even get to talk to the Observer. Messages like hers tempt me NOT to call her, because she was rude. However I know she is hurt. We usually talk twice a day. Instead of being angry at Mom, I am trying to be

grateful

that she is around to call me and that she wants to talk. I'm getting there, but I'm still a bit upset...mothers!
The elevators in my apartment building are scarce today. One is broken and the other is on service. I better not need to go anywhere fast. I chatted with a friend who lives in my building before heading grocery shopping to buy bread. The cashier loudly told me my total. She must have thought I was deaf. It's a bit windy and grey outside. I got a free sample of Icebreakers gum. They were being given out last week too. The gum is fruity. I like it. Tonight I am going to watch When Harry Met Sally and Away From Her on DVD. I'm excited to watch both.
I'm going to baby Poalo's baptism tomorrow. I'm excited to see the little guy and my other favourite bald guy. As fun as a girl's night is, men are great, especially bald ones...
- OCG