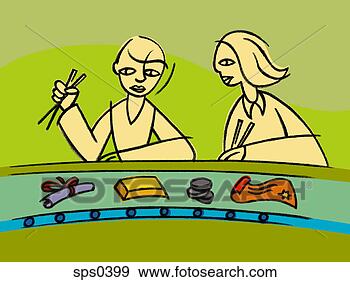 Well, dinner on Sunday with my newly single friend was fun. She needed a listener, so I'm glad it was me. I waited for her in my lobby at our confirmed meeting time, but after fifteen

minutes

passed, I went home to a message saying she was running late due to a washroom issue. I have those too, so I understand. It sucks, but what can we do? We went to a sushi restaurant next door. I have often ate there with Dad. The people who run the place are sweet and always give us spring rolls and green tea on the house. My friend told me about breaking up with her boyfriend. I said I surmised that they had gone their separate ways and I told her I was sorry. I thought it was better to be honest than

phony

. I hate phoniness. My friend told me there is a void in her life. After six years of being with someone, how could there NOT be a void? I said I was sorry my friend was sad. I ate

miso

soup and washed it down with green tea. Eating took a while, but my

friend

had a lot to say so I didn't feel rushed. A new reality show called Battle Of The Blades is being filmed at the historic hockey arena beside my battle. The crowds were just getting out after we left the restaurant. The show was giving out samples of

DanActive

, a

pro biotic

yogurt drink. I like eating yogurt not drinking, so I passed.
Yesterday morning, I went to a boring meeting for my writing gig. I rarely say much, but since they pay me, I feel it's only right to attend the meetings. I was very hungry all morning. I had another unfortunate bathroom incident that

literally

dampened my day, but my attendant was

diligent

and kind, which made it easier to handle. Exhausted, I went shopping to try to liven up. It didn't work. The cashier told me to go to another line-up. I thought she said this so I could get groceries packed, but they already were in my bag. Coffee was one of my purchases, so I had to make sure I was leaving with it. I

came

home and watched lots of Dr. Oz until bed.
I am a very chilly girl right now. The temperature must have dropped. It wasn't this cold this morning. Actually I didn't go out, so I wouldn't know. I was buying tickets for Jersey Boys as a birthday gift for Dad. His 57

th

birthday is tomorrow. Our tickets are for Saturday, December 5

th

, so we have a wait,

which

excites me. By then Christmas will be close. It is a festive type show, so the timing does work. I got the run a round getting a

wheelchair

seat. Ticket agents kept giving me different numbers until I finally found the right person. The guy I talked to was kind. The fire alarms in my building were being tested, so I kept

apologizing

for the shrill sounds. He seemed sympathetic.
I met a friend for coffee today.

Initially

I didn't feel like going but I'm glad I did. Our catch up over coffee was nice. Sometimes it's good to get out there and see a friend. Yes,

it's

a bit nippy, but it's nothing a hot coffee can't help.
-

OCG