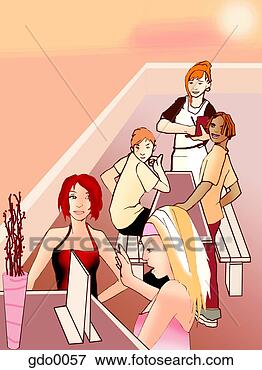 Last night was rainy. My sweet company took my mind off the dreary weather. The Observer and I watched a few episodes of Oprah on tape. One show was on the adult entertainment industry and interviewed Jenna Jamison. The Observer has been wanting to see the show forever. I've saved it on tape for ages. I saw some of the show, but it was more the Observer's style. There was some talk about the

revolution

of woman that was

intriguing

. The other show we watched was on the late Robert Kennedy. I'm not big on American

politics

, but it was a touching interview. The Observer cried. He's the biggest

softy

. I think

Robert

Kennedy cheated on his wife. Most of the

Kennedys

were unfaithful to their spouses. Even so, it was clear that Ted Kennedy was loved by his family.
Later we went to Starbucks. I was really craving a decaf coffee. When I'm tired, I do. It's odd. The warmth is

comforting

. The

barrista

kept wanting to give me a latte. A

latte

is not coffee. It's milk with coffee. To prevent getting a latte, I told the woman at the counter to forget the milk. I went over to another server and she put a little milk in my coffee. Sometimes when we want something done right, we need to find the right person to do it. The Observer thought the second

barrista

was gay. She probably was, but I only care that people are kind.
The Observer was bagged. I

appreciated

him coming to visit. Hopefully he knows I do. We chatted before I got out of bed this morning, but not since. I wonder how his day went...it will be over in forty-five minutes.
I went to the St.

Lawrence

Market. After buying bagels for Mom and Dad, I ran into a friend. We had lunch together. I wasn't hungry or talkative, but it was good to see her. We had pitas. Mine was full of hot sauce and veggies. My eyes and mouth were on fire, but I loved it. At home, a sweet attendant made me

coffee

. After missing my scheduled booking, I

appreciated

her taking the time to make it. She's sweet. I'm in a better mood today. Each day is different for all of us. For that, I'm glad.
-

OCG